Cheesecake Fat Bombs to bring all the Keto happiness you have been looking for in a sweet, delicious little ball of low-carb goodness. This is THE Keto Fat Bomb recipe you want and need.
Wait until you try these Strawberry Cheesecake Fat Bombs! These are the perfect keto fat bombs to keep you feeling full while satisfying your sweet cravings.
Fat is crucial to the Keto diet, as well as an important focus in low carb eating in general. This fat keeps your body running at an optimal level and gives your body fuel.
Repeat after us. Fat. Is. Fuel.
For those who are new to Keto, the idea of eating something called a fat bomb can create an uneasy feeling. Once you understand the basic concepts of Keto, you will feel more at ease with the idea of a fat bomb. Check out our Low Carb / Keto 101 Page if you are starting out. Also, our Keto Macro Calculator can help with how these Fat Bombs can fit into your macros.
All you'll need to make these delicious bombs: Cream cheese, coconut oil, erythritol, vanilla extract and strawberries make these the bomb diggity. Pardon our deliciously cheesy puns, we're a little hungry and need one of these bombs, stat.
We recommend using a muffin tin with liners to keep your fat bombs all nice and neat while you prep for the next step.
How to Store Cheesecake Fat Bombs
After you make these fat bombs, you will want to make sure to store them in the refrigerator to keep them fresh. The cream cheese base (dairy) requires that they be maintained at a safe temperature for consumption. Don't leave them out too long and risk getting sick.
Another key to properly storing these Keto Fat Bombs is to keep them in an airtight container to prevent your bombs from hardening. Nothing worse than having your hard work go to waste and not be able to enjoy them.
Can I freeze my Keto Fat Bombs? Yes, you absolutely can – and will – freeze your fat bombs. In the process of making these, you will freeze them for 30 minutes.
Once you have them frozen, move them to the refrigerator. If you will only be eating a few at a time, you can move a portion at a time.Â
We're never able to resist these fat bombs, so it's hard for us to go the portion route. I mean, we can always make more … right?
You have 7 days to devour. We believe in you.
Some variations worth trying
When making these fat bombs, the sky's the limit on creativity. Here are some ways to adapt these fat bombs:
Blueberries: You can make this recipe with other fruit such as blueberries.
Add Chocolate: Make it a chocolate covered strawberry cheesecake fat bomb recipe. YUM! Try out our Low Carb Chocolate Recipe to make.
Extracts: Use different flavored extracts to jazz up your cheesecake flavor. Get fannnncy.Â
Or if you're just not feeling the creativity, we have a few options you might like. 😉
Check out our Keto Chocolate Peanut Butter Fat Bombs or German Chocolate Fat Bomb Hot Chocolate. Not feeling the sweets? Fat bombs come in all shapes, sizes and flavor palates. Check out our Low Carb Fat Bomb Pork Chops!
Dropping a little history
Ever wonder "how on earth did fat bombs becoming a thing?" We were wondering the same thing.
Healthy fats have becoming something we appreciate. Keto diet most definitely is to thank for this. Did you know that the origin of fat bombs dates back to the 1920s?
Yes, you read that right.
All the way back to the 1920s, when endocrinologist Dr. Henry Rawle Geyelin was focused on addressing epilepsy with diet. The result? Ketogenics. Helllllo fat bombs.
HOW MANY NET CARBS IN OUR FAT BOMBS?
1 Net Carbs per bomb! We don't know about you, but that number makes us SO happy! Remember to recalculate if you decide to try one of the variations as the carb count can shift, adding to the Net Carb total. For example, blueberries are a higher carb count than strawberries.
We provide the sugar alcohols information IN the nutrition card now. WOOT! We do subtract sugar alcohols to get our net carbs so you have all the information provided below in case you need to do it differently. Remember we are a judgement free zone here and please be kind to others if they follow things a bit differently.Â
If you'd like to use another form of sugar alcohol be sure to check out our low carb sweetener conversion chart. This recipe can easily be made sweeter by using more of whatever sweetener you decide to use. We tend to go on the mild sweetener side of things so do what works for you in that regard as well.
If you are new to this Low Carb/Keto lifestyle and are unsure what we are talking about please feel free to read up more on Net Carbs. Or start at our Low Carb & Keto 101 Starter Page.

So now that you know a little bit more about these Keto diet staples, we encourage you to plan to incorporate into your diet on a regular basis. They are a quick grab-and-go snack that is perfect for breakfast.
Another great time to go for a fat bomb is that mid-afternoon slump. NOTHING worse than hitting the wall and feeling groggy. Fat bombs to the rescue!
Working out seems counter-intuitive to being the perfect time to drop a fat bomb, but it's honestly a GREAT time to reach for one. Whether you pop one before your work out or after, you won't regret it.
Our personal preference? We like to go post-workout 9 times out of 10. We're not a huge fan of putting anything but water on our stomachs prior to anything that might involve cardio. But again, that's just a personal preference. You do you!
Other Low Carb & Keto RECIPES you'll like: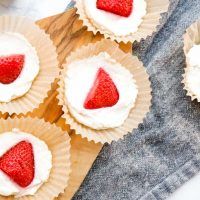 Cheesecake Fat Bombs
Cheesecake Fat Bombs to bring all the Keto happiness you have been looking for in a sweet, delicious little ball of low-carb goodness. This is THE Keto Fat Bomb recipe you want.
Print
Pin
Rate
Servings:
6
cheesecake fat bombs
Ingredients
5

oz

cream cheese

,softened

1/4

cup

coconut oil

1

Tablespoon

erythritol

( another favorite sweetener)

1

teaspoon

vanilla extract

3

strawberries

, hulled and halved
Instructions
In a a large bowl mix together, cream cheese, coconut oil, sweetener and vanilla extract. Mix until combined and smooth.

Prepare muffin tin with cupcake liners. Place a cookie scoop of mixture into each tin making 6 fat bombs. Top with strawberries.

Freeze for 30 minutes. Store in an airtight container in the refrigerators up to 7 days.
Nutrition Info
Nutrition Facts
Cheesecake Fat Bombs
Amount Per Serving (1 fat bomb)
Calories 163
Calories from Fat 153
% Daily Value*
Fat 17g26%
Cholesterol 26mg9%
Sodium 76mg3%
Potassium 42mg1%
Carbohydrates 4g1%
Protein 1g2%
Sugar Alcohol 2g
* Percent Daily Values are based on a 2000 calorie diet.