Keto Birthday Cake proves that deliciousness and dessert-ing can be low carb. Have no fear, you can have your low carb cake and eat it too.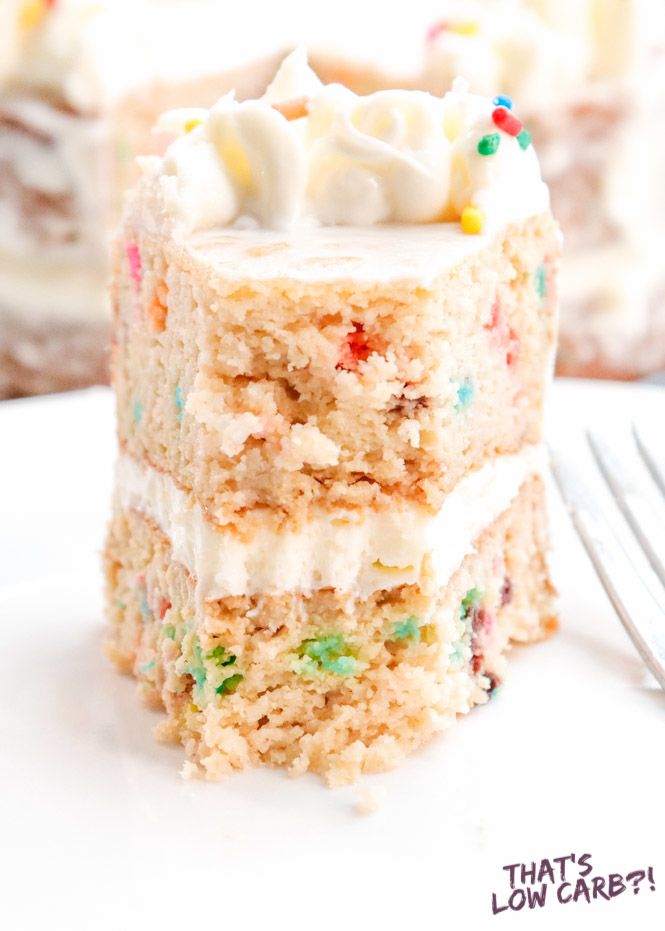 Want the best tasting Keto Birthday Cake? We have you covered.
This version comes with all the delicious taste of a traditional vanilla cake, but without the added carbs and sugar. Our birthday is actually coming up soon so we've been testing out some of our favorite ways to celebrate.
Everyone loves cake. Whether it is a piece of cake or on-the-go with cupcakes -Â for a special occasion or just for a sweet dessert. Cake is a classic.
When eating keto, it can be very hard to turn down birthday cake. Now, with this keto birthday cake recipe, you don't have to say no!
Our photos we 'naked' frosted the cake on the outside with a thick layer in the center.. Our family is currently on the fence on this. I'm totally team frosting and really am here for cake FOR THE FROSTING. The nutrition info is based on frosting the entire cake with 2 cups whereas the pictures used about 1 1/2 cups so that can vary up your nutrition carb count!
What flour is used in low carb and keto Birthday Cakes?
When making keto recipes that need flour, there are usually two types of flour to choose from that work the best for keto desserts – Almond flour or coconut flour.
In this recipe, I am using a combination of almond flour AND coconut flour. As I mentioned in our Keto Vanilla Cupcakes we've realized that some people just have an extremely strong aversion to coconut flour OR almond flour. But have noticed that in general when using the flour combination it appeases the taste buds for all.
I love coconut flour and almond flour used in baked goods. You get the mild flavor of the almond flour but it doesn't absorb liquid very well so then coconut flour comes in and soaks up that extra moisture and graininess normally left behind by the almond flour. They work as a team in creating a pretty similar texture and taste to a traditional flour dessert. It's cake perfection in this case.
Properly storing and freezing keto cake
When storing cake, you want to keep it as fresh as possible. To store and eat right away, you want your cake at room temperature in an airtight container. Be mindful of the icing, if it required refrigeration that's where you'll want to keep your container. Using our cream cheese frosting for example, I'd recommend keeping in the refrigerator if it's not consumed within the day.
When you have extra vanilla keto birthday cake that you cannot finish before it will go bad, you absolutely can freeze it.
To properly freeze the cake, you will want to store it in an airtight container or freezer bag.
If the cake already is frosted, be sure to put the cake in the freezer on a baking sheet. Once the cake is frozen, you can put the cake into a container or bag. This allows the frosting to freeze and avoids smashing the frosting.
When thawing the cake, remove the cake fro your container or bag, then allow it to thaw.
Alternatives for this Easy Keto Birthday Cake
While this is a classic cake flavor, you can change is up a little with some simple additions:
Add Lemon: Whether you use lemon juice or lemon extract, you can get zesty and make this into a lemon cake.
Root Beer: If you love root beer flavor extract, try this as a root beer cake.
Sugar Free Extras: Think of different Sugar Free add-ons, such as sugar free chocolate chips or sprinkles.
Sugar-Free Sprinkles to fit our festive cake. Now there are actually surprisingly quite a few sugar-free sprinkles coming out which makes me excited. For an event like this birthday cake.. it's a birthday, so add a few sprinkles to the mix for US is perfectly acceptable. We are all about balance here in our household.
BUT if you have to stick strict for dietary reasons like Type 1 and need to not spike your blood sugars anymore then here is a fantastic sugar-free sprinkle recipe you can make and use for this recipe OR purchase yourself (link below in the recipe card)
Looking for some other low carb dessert options? We have a few you might like. 😉 Check our 3-ingredient Keto Cheesecake Fluff, our deliciously simple Keto Pound Cake or our nibble worthy Keto Cheesecake.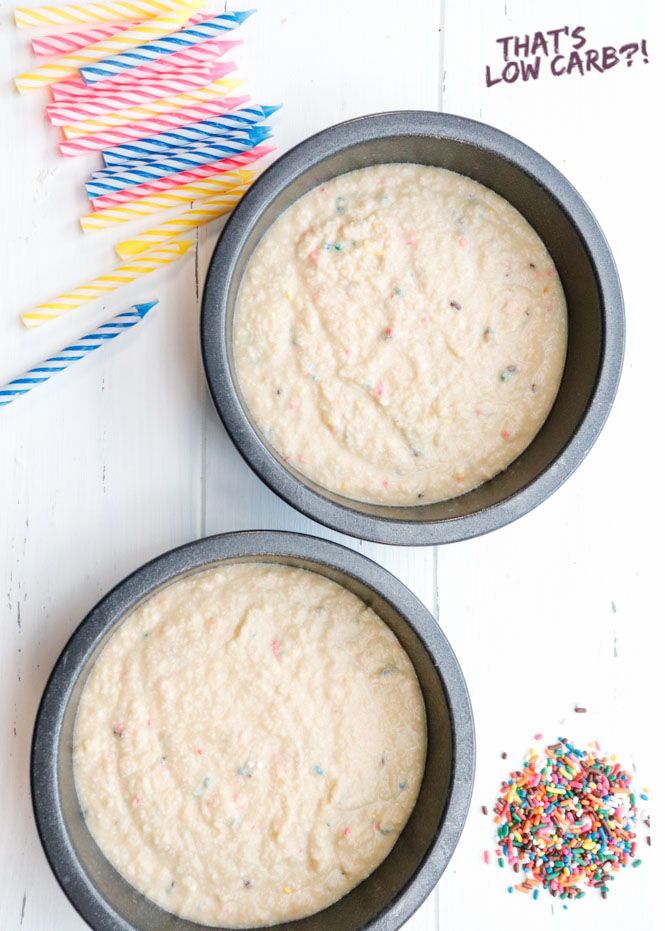 Every wonder just how the tradition of birthday cake got started? We have to admit, we were curious as well.
Turns out, the first true birthday cake is believed to have come to pass in the Middle Ages in Germany.
Back in the day, cake was much more bread-like. Over time, it grew sweeter and more like the cakes we know today.
Kinderfest, the celebrations of young children's birthdays, was a cake-worthy gathering. (As well as weddings, naturally.)
Slowly but surely, cakes became more elaborate with layers, frosting, fillings… not entirely keto and low carb friendly for our blood sugar levels.
The modern twist of going Keto is just the next step in a history of deliciousness. We personally prefer the Keto versions for flavor AND keeping our blood sugars in check.
HOW MANY NET CARBS IN OUR KETO BIRTHDAY CAKE?
6 Net Carbs per slice! Now this is WITH our FANTASTIC Keto Cream Cheese Frosting which puts it it to be about 1/4 cup in each slice and a layer of frosting in the center.
Our family is currently on the fence on this. FULLY FROSTED OR NOT? I'm totally team frosting and really am here for cake FOR THE FROSTING. The nutrition info is based on frosting the entire cake with 2 cups whereas the pictures used about 1- 1 1/2 cups so that can vary up your nutrition carb count if you'd like to use less frosting! Bring the carb count down to the 4 range.
6 Net Carbs for a slice of delicious and frosting?! Now THAT's happiness by the slice. You can get a that a little lower if you'd like to make our Keto Chocolate Frosting instead.
We provide the sugar alcohols information IN the nutrition card now. We do subtract sugar alcohols to get our net carbs so you have all the information provided below in case you need to do it differently. Remember we are a judgement free zone here and please be kind to others if they follow things a bit differently.Â
If you'd like to use another form of sugar alcohol be sure to check out our low carb sweetener conversion chart. This recipe can easily be made sweeter by using more of whatever sweetener you decide to use. We tend to go on the mild sweetener side of things so do what works for you in that regard as well.
If you are new to this Low Carb/Keto lifestyle and are unsure what we are talking about please feel free to read up more on Net Carbs. Or start at our Low Carb & Keto 101 Starter Page.
So, here's the secret to Keto Birthday Cake. You can have it ANY DAY! 😉 No need to wait to cheers for another year. Every day is worth celebrating. Don't forget to save us a slice!
Other Low Carb & Keto RECIPES you'll like:
Keto Birthday Cake
Keto Birthday Cake proves that deliciousness and dessert-ing can be low carb. Have no fear, you can have your cake and eat it too.
Print
Pin
Rate
Instructions
Preheat oven to 350 degrees F

Pre-grease 2 6inch round cake pans. (If you want to make a larger cake, double the recipe)

In a small bowl mix together the almond milk and apple cider vinegar.

In a large bowl, mix your dry ingredients: sweetener, almond flour, coconut flour, baking soda, baking powder, salt and brown sugar alternative. When whisking create a well in the middle for the wet ingredients.

Add in eggs, vanilla extract and butter and mix to combine. Pour in the milk mixture and mix well. Fold in sugar free sprinkles. **SEE NOTES**

Evenly distribute the cake batter into your round cake pans. Tap the pans on a flat surface to spread the mixture evenly throughout the pan and remove any excess air.

Bake for 20-25 minutes until golden brown and when a toothpick is interested, comes out clean.

Allow cakes to fully cool before frosting and decorating.
Notes
** Depending on the ingredients that you are using, your batter may be a little thick. If it's not a cake mix consistency add in 1/2 c of unsweetened almond milk at a time until you achieve the desired consistency. I think that is where a lot of people get frustrated when it comes to baking low carb desserts is that not all the flours are the same consistency as some more processed and become finer than those that are not. So keep that in mind!
---
Please note that the nutrition data below is provided as a courtesy. We try to be accurate with this information but feel free to make your own calculations.
Nutrition Info
Nutrition Facts
Keto Birthday Cake
Amount Per Serving (1 slice)
Calories 276
Calories from Fat 90
% Daily Value*
Fat 10g15%
Cholesterol 96mg32%
Sodium 411mg18%
Potassium 76mg2%
Carbohydrates 57g19%
Protein 4g8%
Sugar Alcohol 47g
* Percent Daily Values are based on a 2000 calorie diet.