Keto Cheesecake Fluff is low carb dessert amazingness with just 3 ingredients. Light, whipped, flavorful … and it's so fluffy! Life's too short not to savor every spoonful.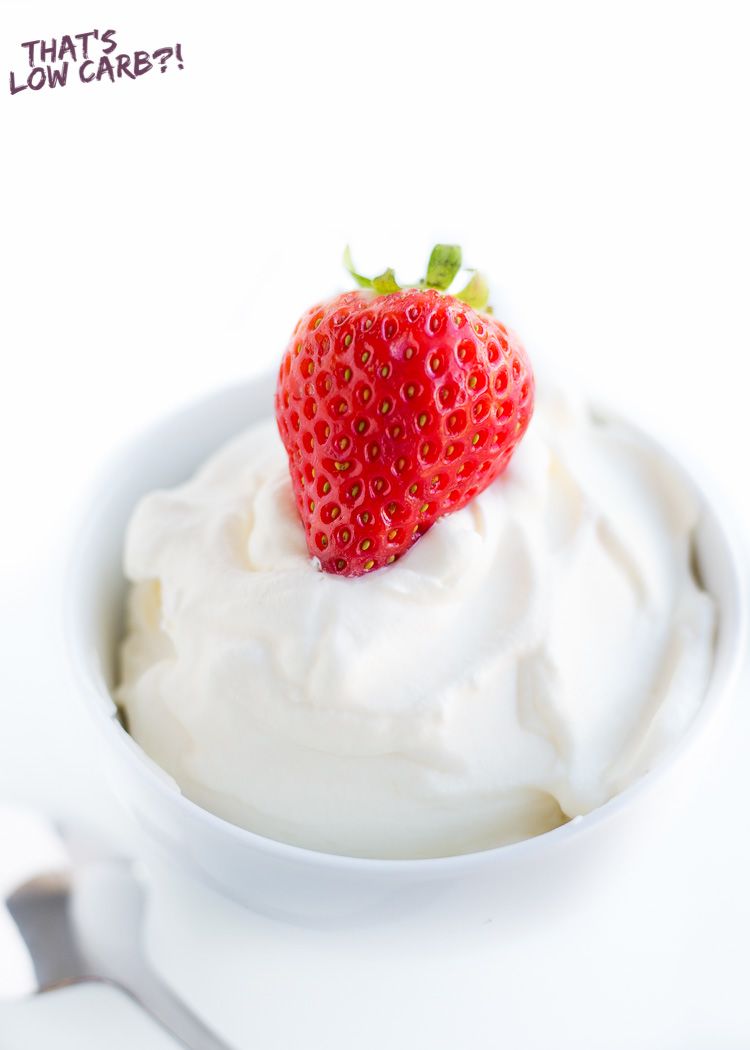 This Keto Cheesecake Fluff is a great way to capture all the delicious flavor of cheesecake while cutting back on the carbs. It's not a coincidence that this goes swimmingly with a little strawberry (or just on it's own.)
Cheesecake is one of those flavors you can't help but love. It's everything a comfort food type dessert should be. Creamy, dreamy and oh-so-good.
The problem is, that kind of flavor usually comes loaded with carbs. This fluffy is PERFECT to trim back without missing out. Bonus, it's easy to make. Maybe a little TOO easy.
We absolutely love our traditional Keto Cheesecake with even a chocolate ganache but this cheesecake fluff is for all the peeps who want something delicious but not an entire cheesecake in their refrigerators.
But before we can look forward, let's take a look at the history of cheesecake.
A not-so-cheesy history
We've all heard of New York Cheesecake. We may be drawn to believe that the origins of this delicious dessert come from New York.
Surprise – the history of cheesecake, much like the flavor, is more complex than that. Much like it's rich flavor, the history is rich as well.
Believe it or not, there's evidence that supports that cheesecake was served during the first Olympic games. Greece brought us the flavor we love, all the way back in B.C.
So much different back in those times, considered to be healthy, a good source of energy and used to celebrate special occasions such as weddings.
Over the years, the recipe as well as the flavor has evolved and been perfected … we now bring you KETO CHEESECAKE FLUFF! 🙂
THE FLUFF ON THE KETO CREAM CHEESE FLUFF
Now we know a little bit of where this amazing flavor inspiration comes from, let's take a look at just how easy it is to savor without a massive amount of carbs.
Heavy whipping cream, cream cheese, powdered monk fruit and vanilla extract are the makers of magic when it comes to this simple recipe.

The hand mixer is your friend. 10 minutes will have you enjoying this cheesecake fluffy in all its fluffy glory.
Recipe Tip: If you are one of those people who are living in a heatwave still it may be a wise idea to chill your mixing bowl to help get stiff peaks more quickly.
So good. So light. YUM!
If you're want some options to savor your fluff with:
But really generally we eat it plain by itself or if we've got a some berries in the refrigerator. If you need help choosing what type of berries fit into the low carb diet be sure to check out our Low Carb Fruit List.
HOW MANY NET CARBS IN OUR KETO CHEESECAKE FLUFF?
3 Net Carbs! I'm not sure of the exact measurement of how much a serving is. I just know that between the husband and I, we split it and it lasts two days. There generally is an uneven amount leftover – then we pretty decide rock, paper scissors to determine who gets the leftover amount. ?
We provide the sugar alcohols information IN the nutrition card now. We do subtract sugar alcohols to get our net carbs so you have all the information provided below in case you need to do it differently. Remember we are a judgement free zone here and please be kind to others if they follow things a bit differently.Â
If you'd like to use another form of sugar alcohol be sure to check out our low carb sweetener conversion chart. This recipe can easily be made sweeter by using more of whatever sweetener you decide to use. We tend to go on the mild sweetener side of things so do what works for you in that regard as well.
If you are new to this Low Carb/Keto lifestyle and are unsure what we are talking about please feel free to read up more on Net Carbs. Or start at our Low Carb 101 Page.
Making Keto Fluff Dairy-Free
If you are looking at trying to go low carb or keto without the dairy this recipe isn't too far out of your reach!
Coconut Cream – You'll want to swap the heavy cream for coconut fat whip. Refrigerate the can of coconut milk for 24 hours, scoop the layer of cream that hardens on the top and leave behind the liquid. You just want the coconut cream. Whip that together until it reaches stiff peaks
Cream Cheese – then you can use a dairy-free alternative cream cheese option (there are so many in the store these days!) and you can proceed to make this keto fluff. 🙂
Now this will change up your carbs a tad so just be aware of that and calculate yourself as brands of dairy-free cream cheese have varying carb counts.
We hope you love cheesecake flavor as much as we do, we have a hunch that you do.
This Keto Cheesecake Fluff will live up to your expectations without putting your Keto goals out of reach.
And really, is there anything better than capturing the flavor you wouldn't want to give up? We think not.
YOU MIGHT ALSO ENJOY THESE KETO / LOW CARB RECIPES: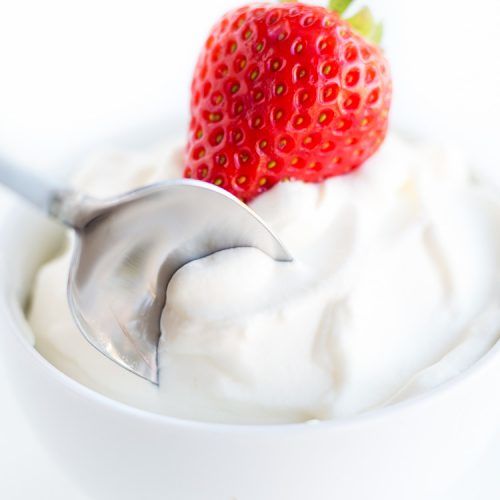 Keto Cheesecake Fluff
Keto Cheesecake Fluff is low carb dessert amazingness with just 3 ingredients. Light, whipped, flavorful … and it's so fluffy! Life's too short not to savor every spoonful.
Print
Pin
Rate
Ingredients
1

cup

heavy whipping cream

8

ounces

cream cheese

1/2

cup

powdered monkfruit

1/2

teaspoon

vanilla extract

(optional)
Instructions
In a cold mixing bowl add heavy whipping cream, cream cheese, sweetener and vanilla extract. Mix together and beat on high with a hand mixer mixture thickens, about 5 minutes.

Store in an airtight container in the refrigerator for 3-4 days. This dessert is not 'self stable' so within a day or so a little water will develop around the fluff, nothing is wrong with it and you can still consume and enjoy it. 🙂
Nutrition Info
Nutrition Facts
Keto Cheesecake Fluff
Amount Per Serving (1 serving)
Calories 321
Calories from Fat 297
% Daily Value*
Fat 33g51%
Cholesterol 115mg38%
Sodium 164mg7%
Potassium 98mg3%
Carbohydrates 22g7%
Protein 4g8%
Sugar Alcohol 19g
* Percent Daily Values are based on a 2000 calorie diet.