Keto Chicken Crust Pizza is the unexpectedly delicious low-carb pizza solution you've been searching for. This keto recipe is flavorful perfection to get your pizza fix without loading up on carbs.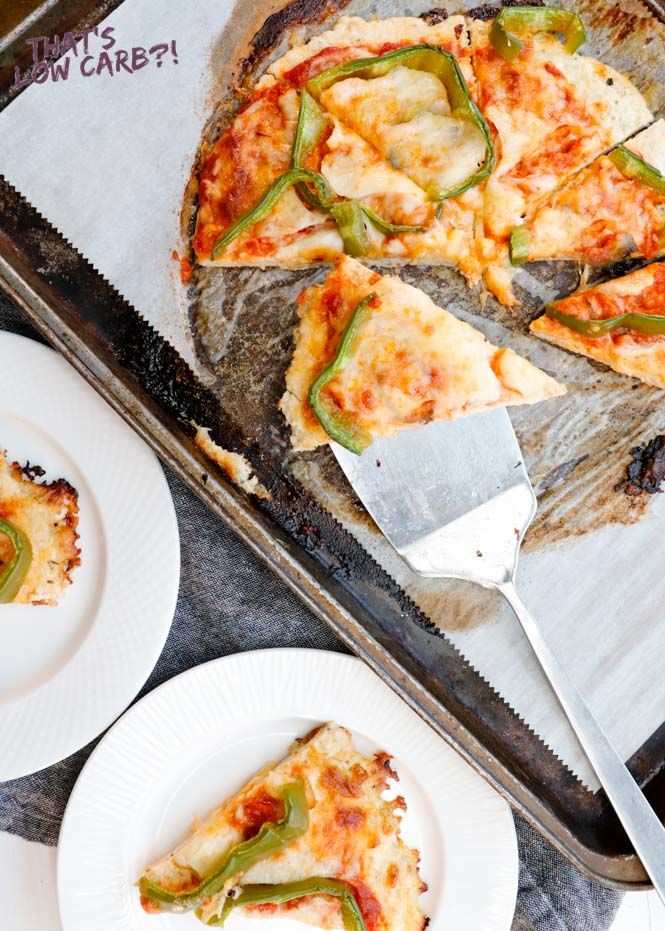 Chicken Crust Pizza is one of those anomalies in low carb eating. It makes you say "huh?" That is, until you try it for yourself and realize how easy and tasty it is. It just plain works.
Miss eating pizza? This low carb pizza crust is the way to go so you can have your pizza and eat it too. Even if your family isn't on board with the Keto diet, they'll love how this tastes.Â
We have to admit, one of our biggest struggles with going low carb is the foods that are no longer on the list of things we can eat. Pizza was one of those foods, until now. Making this chicken crust pizza, allows you to have the pizza flavors you crave while avoiding the carbs AND getting a punch of protein in the diet.
Want to see how protein fits into your macros? Check out our Keto Macro Calculator to help see where you should be at.
Make the Perfect Chicken Crust Pizza
When making pizza, the foundation (and in our opinion, the most important part) is a great tasting crust. Welcome to Chicken Crust Pizza, you have it made. Literally.
Chicken, cheese and seasoning make this magical crust. Seriously so simple! An alternative option? Turkey works pretty well to make this crust, just changes up the flavor palate a little.
Next comes the sauce, which with low carb pizza you'll want to opt for a no-sugar added tomato sauce, perhaps will a little light seasoning mixed in such as oregano.
Last but not the least, the toppings. Oh, the amazing low carb toppings bring it home for the perfect pizza. Â
What to Serve with Chicken Crust Pizza
Pizza often stands alone as the main and only dish. But it doesn't have to. Some good options for complimentary sides include:
Keep in mind, Chicken Crust Pizza is pretty filling on it's own because of the protein build into the crust. It most definitely has a chicken flavor, but thankfully chicken goes well with everything. 🙂
We'd ask you to save us a slice, but we know the odds aren't entirely in our favor. If you DO have leftovers, make sure to keep them refrigerated. The chicken-based low carb crust means it's more important to keep your pizza leftovers fresh.
How Many Net Carbs per Chicken Crust Pizza Slice
.875 Net Carbs per slice. Rounding up to to let's say 1 Net Carbs. Our nutrition info automatically rounds up and since it's over .5 it automatically rounds to 1 Carb and 1 Fiber. Now if you add some veggies like bell pepper or onion you'll definitely be in the range of 1 Net Carb Pizza Slice.
Some inspired toppings for your pizza:
Cheese: For most people, mozzarella cheese is the go-to, but we appreciate a little bit of creativity when it comes to cheese. Feta MIGHT be our favorite to throw in the mix, but lightly because of the salty flavor.
Ranch: We feel like ranch belongs with pizza, so much more than to dip it in. You can try out Low Carb Ranch Dressing recipe. A little drizzle on a bacon, chicken pizza (with Chicken Crust of course!) is our favorite. Bonus: Check out this homemade ranch seasoning from Veggie Balance!
Veggies: There is no shortages of veggies that go well with pizza. We're big fan of broccoli and tomato slices with ricotta cheese. We're also a tonnnnn of peppers and onions. Need a low carb vegetable list? Check it out here.
Bacon: It's true, bacon belongs here. We love adding on pizza is amazing. If you're not feeling bacon (how could you not?) – we recommend Pancetta.
Other meat: There are many meat toppings that go well with pizza. Sausage, pepperoni, ground beef, just about anything. Because of the chicken component of the crust, your pizza already is protein packed.Â
If you are new to this Low Carb/Keto lifestyle and are unsure what we are talking about please feel free to read up more on Net Carbs. Or start at our Low Carb & Keto 101 Starter Page.
YOU MIGHT ALSO ENJOY THESE LOW CARB RECIPES:
Chicken Crust Pizza
Keto Chicken Crust Pizza is the unexpectedly delicious low-carb pizza solution you've been searching for. This keto recipe is flavorful perfection to get your pizza fix without loading up on carbs.
Print
Pin
Rate
Ingredients
1

pound

ground chicken

(ground turkey works also)

1/2

cup

mozzarella

1

teaspoon

Italian seasoning

1/2

teaspoon

salt

4

Tablespoons

marinara sauce

1

cup

mozzarella

( for cheese pizza)

all your favorite pizza toppings
Instructions
Preheat oven to 400 degrees F

Add chicken, 1/2 cup mozzarella, Italian seasoning and salt to a large bowl. Using your hands, mix together until well combined.

Drop your dough onto a piece of parchment paper. Top with a second sheet of parchment paper and roll out your dough until it's 1/2 inch thick all the way around.

Top with marinara sauce, remaining mozzarella and your favorite toppings.

Bake for 25-35 minutes, or until golden brown and cheese is melted.

Remove from oven and allow to cool for 3-5 minutes before slicing. Enjoy!
Nutrition Info
Nutrition Facts
Chicken Crust Pizza
Amount Per Serving (1 slice)
Calories 150
Calories from Fat 90
% Daily Value*
Fat 10g15%
Cholesterol 65mg22%
Sodium 330mg14%
Potassium 337mg10%
Carbohydrates 1g0%
Protein 15g30%
* Percent Daily Values are based on a 2000 calorie diet.