Keto Ice Cream is the homemade, no churn recipe that will save you from an ice-cream-less existence. Simple, easy flavor is yours to be made and enjoyed even on a keto/low-carb diet. Grab a spoon and dig in.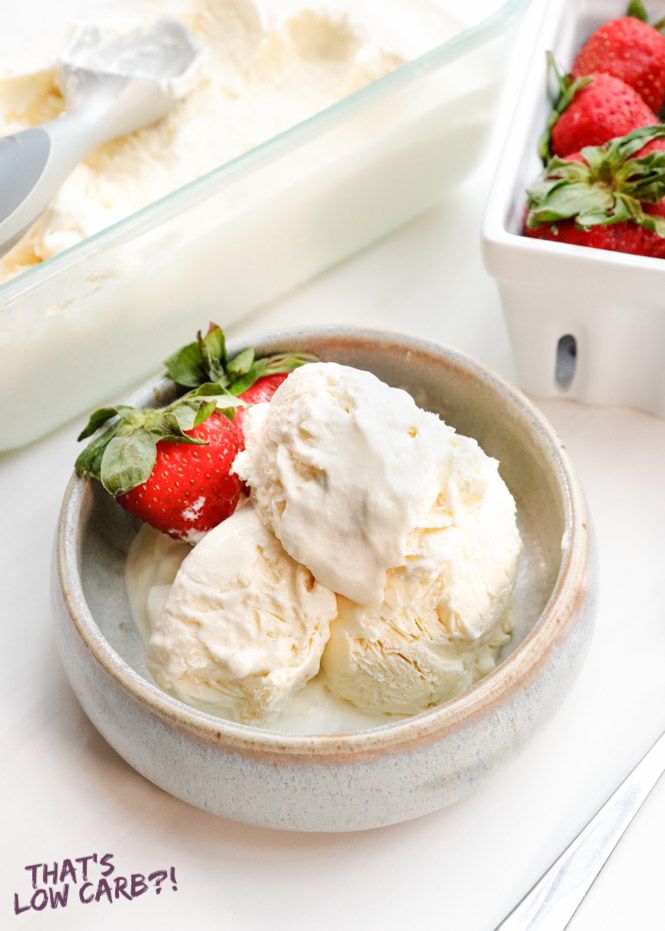 Following low carb but miss eating ice cream? Wait until you try this low carb and keto vanilla ice cream. This easy no churn ice cream recipe is rich and creamy.
ALL the things we love about ice cream but without the carbs, you can indulge in this sweet keto dessert anytime!
Ice cream is great for kids, adults, when you are having a good day, or a bad day, it doesn't matter.
Ice cream is just great. When eating keto, many people think they have to give up these kinds of classic desserts, but if you know how to remake them into keto friendly recipes, you can still enjoy the foods you love.
How to Store Homemade Ice Cream
When you are ready to freeze this ice cream, you will be using a loaf pan. You can keep the ice cream in the loaf pan covered well with plastic, or move the ice cream to an air tight container.
When stored properly, this ice cream can last for a month. Make sure that it is wrapped well so that it doesn't get freezer burned.
We say this ice cream CAN last for a month. But it is so delicious, the odds are not in the ice cream's favor to make it through the month without completely being devoured. SO. GOOD.
Feeling a little fruitful flavor? Check out this Strawberry Banana Nice Cream (sans refined sugars) from a Dash of Megnut!Â
What Makes this Keto/Low Carb Ice Cream Sweet?
When making this ice cream, you are sweetening it with our homemade pancake syrup. You can use the maple syrup extract or omit in this case. It's actually quite tasty both ways.
This pancake syrup is sweet and adds an amazing taste to this ice cream. It adds a deeper flavor than sugar alone.
It also is perfect as you want to be able to make it HOT to beat into the egg yolks. We'll mention more on it down below. If you'd like to use a store bought liquid pancake syrup sweetener that would also work fab.
Why do you use egg yolks? Is there a salmonella risk using egg yolks?
Egg yolks are what are used in old fashion ice cream recipes. You know when you get a spoonful of natural ice cream and it's just pure natural flavor and creamy perfection without chemical taste? Yup, I bet there is eggs in it.
There is always a salmonella risk when using raw eggs. Egg yolks are used for homemade mayonnaise for example. There is a 1 in 20,000 risk that an egg has salmonella. So a pretty low risk but cooking it is how you reduce that risk.
We advise you bring the sweetener to a roiling boil and then slowly pour into the beaten egg yolks. The mixture will become fluffy and pale – that is precisely what you want!
Taking these steps helps a ton and win-win you don't need an ice cream machine either this with method!
Variations to Ice Cream that you can make with this base
If you want to change the taste of this ice cream, you can try these ideas:
Try sugar free chocolate chips. Keeps the flavors classic!
Add Extracts: Extracts are an easy way to add different flavors without creating a whole new ice cream recipe. Mint, caramel, almond.. the options are endless.
Try this homemade vanilla extract to really amp up the vanilla flavor of this. IT IS FANTASTIC.
Once you taste how amazing this ice cream is, you will never waste money on store bought low carb ice cream again.
You might also enjoy our low carb chocolate ice cream or our low carb blackberry ice cream.
Decisions, delicious decisions.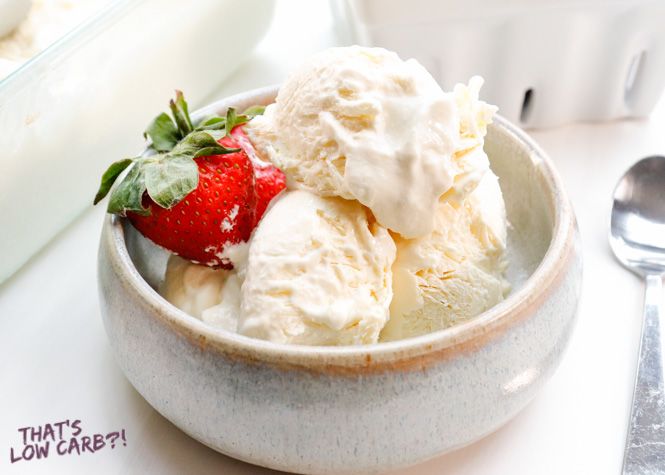 HOW MANY NET CARBS IN OUR KETO FRIENDLY ICE CREAM?
3 Net Carbs! This recipe makes QUITE a bit of ice cream. If I could estimate it's about 6 cups that it makes. We split this into a serving each and it lasts two nights in our home. I must add, that 1/4th of this recipe as a serving is REALLY satisfying.
We KNOW you are going to love this recipe. 🙂
If you'd like to use another form of sugar alcohol be sure to check out our low carb sweetener conversion chart. This recipe can easily be made sweeter by using more of whatever sweetener you decide to use for the syrup. We tend to go on the mild sweetener side of things so do what works for you in that regard as well. The liquid will be sweeter before it's frozen so do keep that in mind as well!
If you are new to this Low Carb/Keto lifestyle and are unsure what we are talking about please feel free to read up more on Net Carbs. Or start at our Low Carb 101 Page.
RECIPE OPTION FOR ICE CREAM MACHINE!
The main reason we've got to use a syrup is to get it steaming hot. This limits us to be able to heat the cream because we need it nice and fluffy since it's a no churn ice cream.
IF you have an ice cream machine.. these babies are worth their money in ice cream. You can do the following.
Use any other granular low carb sweetener and whisk into your eggs.
Get your cream nice and boiling on the stove top.
Slowlyyyy pour hot cream into eggs/sweetener mixture and whisk together. Allow to cool to temp before placing in the refrigerator for 12 hours.
Pour into your ready ice cream machine and in 30 minutes you are done!
So there are really two different ways you can make ice cream. Most don't have an ice cream machine… I was one of them for years, but recently we invested in one and it is one of the best decisions I've made in a long while.
So join us as we binge eating ice cream! Summer is not over yet!
Homemade Keto Ice Cream
Keto Ice Cream is the homemade, no churn recipe that will save you from an ice-cream-less existence. Simple, easy flavor is yours to be made and enjoyed even on a keto/low-carb diet. Grab a spoon and dig in.
Print
Pin
Rate
Ingredients
1 3/4

cup

heavy cream

1/2

cup

low carb syrup

(click link for homemade recipe)

4

egg yolks

, beaten

1

teaspoon

vanilla extract
Instructions
In a large bowl, whip heavy cream with a hand mixer until it creates stiff peaks. Set aside.

Heat your low carb syrup in a small pan until boiling.

Meanwhile add beaten egg yolks into a large glass bowl. Slowly drizzle hot syrup into beaten egg yolks. Beat on high until you get a pale and cream mixture. About 3 minutes. Add vanilla extract.

Fold the whipped cream into the egg mixture.

Pour mixture into a loaf pan and cover with plastic wrap. Place in freeze and allow to set for 4-6 hours at a minimum.
Notes
Please note that there are 36 grams of sugar alcohol in the entire recipe and should be subtracted to get your net carbs.Â
---
Please note that the nutrition data below is provided as a courtesy. We try to be accurate with this information but feel free to make your own calculations.
Nutrition Info
Nutrition Facts
Homemade Keto Ice Cream
Amount Per Serving (1 serving)
Calories 439
Calories from Fat 405
% Daily Value*
Fat 45g69%
Cholesterol 344mg115%
Sodium 68mg3%
Potassium 98mg3%
Carbohydrates 13g4%
Protein 5g10%
Sugar Alcohol 9g
* Percent Daily Values are based on a 2000 calorie diet.