Low Carb Keto Cornbread Muffins
Keto Cornbread Muffins without the cornmeal! This sweet and delicious low carb muffin will certainly be the perfect addition with your next batch of chili.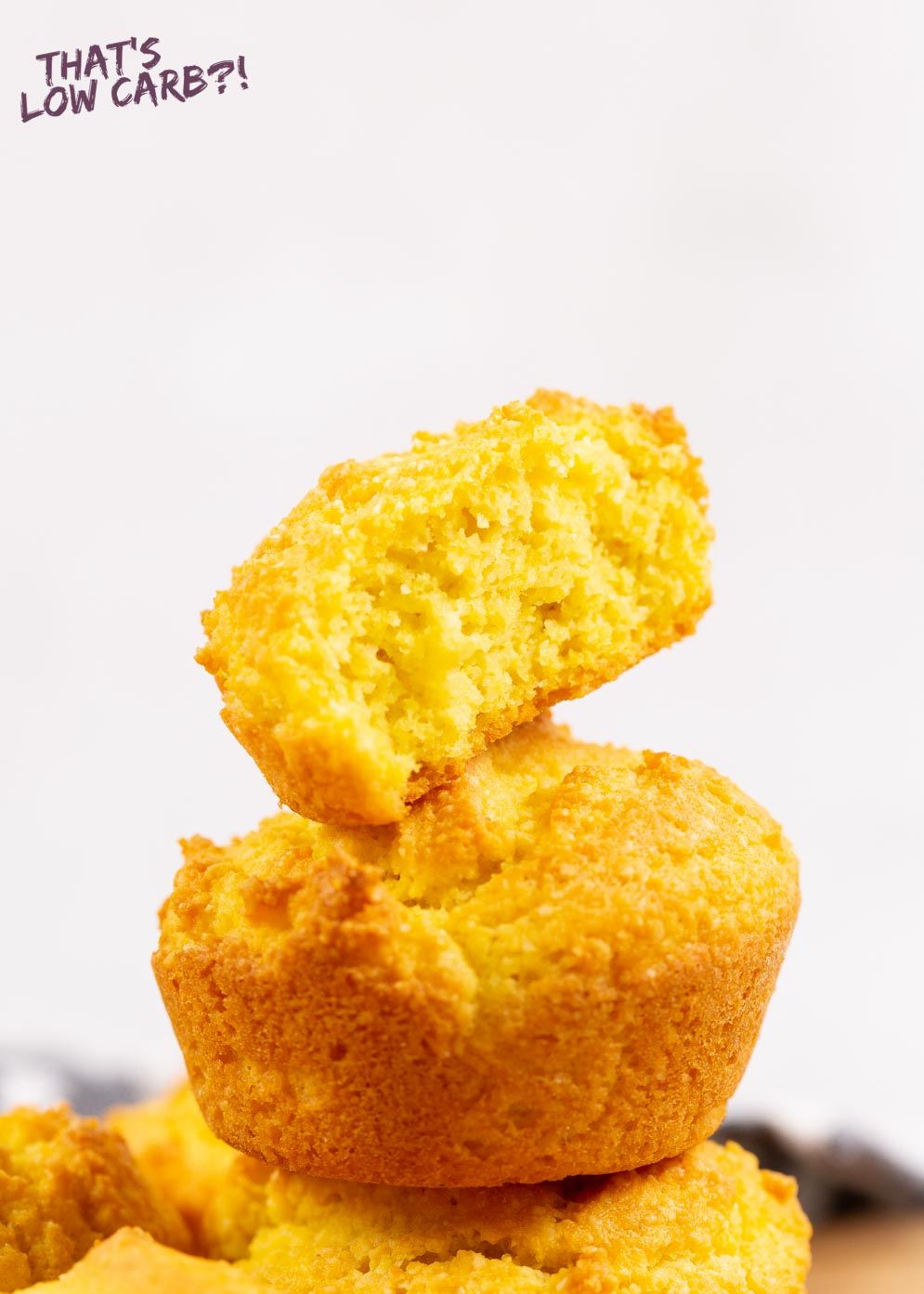 I'm always a sucker for a soft muffin. Especially if it's warm and oozing with melty, warm butter. Nothing really beats that and these low carb cornbread muffins give you all the opportunities to enjoy.
If you love cornbread, these muffins are a great, low carb replacement. They taste like corn dogs when you have them with a hot dog too! (recipe coming soon)
What You'll Need
Measuring cup and spoon
Medium mixing bowl
Medium mixing bowl
Whisk
Rubber spatula or spoon
Muffin tin
Ingredients
Almond flour
Coconut flour
Baking powder
Sea salt (we love Diamond Crystal Sea Salt. It dissolves quickly and has a bright, mineral flavor)
Coconut Oil
Pure liquid stevia
Unsweetened almond milk
Eggs
Step-by-Step Directions
Preheat the oven to 350
Whisk dry ingredients together in a medium-sized mixing bowl
Whisk wet ingredients together in a separate medium-sized mixing bowl
Pour wet ingredients into the dry bowl; whisk until until ingredients and completely combined. The mixture should become heavy.
Use a spoon or rubber spatula to add scoops of batter into a greased muffin tin. Aim to fill to a height just above the rim of the muffin tin.
Bake for 25-30 minutes. Briefly let cool and serve
Recipe Tips & Frequently Asked Questions
What should the batter for keto cornbread muffins look like?
The batter is rather thick but don't be putt off by it. See below is a good image to get an idea for the right consistency. You can also watch the video located in the recipe card below to see the steps and how the ingredients should interact.
How to get golden brown muffin bottoms
If you love the look and taste of a golden brown cornbread muffin, be sure not to skip the important step of generously greasing your muffin tin with a coconut oil (you can also use butter). As this layer of fat heats up in the oven it creates whats called a Maillard reaction – which breaks down sugars and proteins, creating amazing flavors. As a bonus the grease will help ensure your muffins don't stick to the tin!
HOW MANY NET CARBS A Low Carb Cornbread Muffin
2 Net Carbs a muffin. We calculated it with this making 7 muffins so if you make more or less be sure to calculate it properly.
For this recipe and sweetness we added liquid stevia which is zero sugar alcohols. If you want a little extra sweetness a extra drop or two might work well.
However, if you end up wanting to make these without the liquid stevia and/or use another type of sweetener you can change up the type of sugar alcohol you use as well so be sure to check out our low carb conversion chart if you plan to use another type.
Be sure to check out your Macros needed with our Keto Macro Calculator where it can give you a personalized idea what your calories and macros should be.
If you are new to this Low Carb/Keto lifestyle and are unsure what we are talking about please feel free to read up more on Net Carbs. Or start at our Low Carb & Keto 101 Starter Page.
Dairy-Free Options for this Recipe
One thing I would like to make a mention is that we stuck with making these dairy-free and used coconut oil.
Now the coconut oil is slightly noticeable in this recipe but was a nice addition. However, if you are a little deterred by that flavor then I'd strongly advise using melted butter instead if you can.
These are so good either way, and you can bet these will be my go-to next to our keto chili from here on out.
Low Carb Cornbread Muffins Recipe
Keto Cornbread Muffins without the cornmeal. This sweet and delicious low carb muffin will certainly be perfect with your next batch of chili.
Print
Pin
Rate
Instructions
In a medium mixing bowl, whisk together the dry ingredients.

In another medium mixing bowl, whisk together the wet ingredients. The oil may clump some from cooling down, but that's okay.

Combine the two mixtures and whisk thoroughly.

Pour into muffin tins and bake for 25-30 minutes.
Nutrition Info
Nutrition Facts
Low Carb Cornbread Muffins Recipe
Amount Per Serving (1 muffin)
Calories 186
Calories from Fat 144
% Daily Value*
Fat 16g25%
Cholesterol 80mg27%
Sodium 52mg2%
Potassium 101mg3%
Carbohydrates 5g2%
Protein 6g12%
* Percent Daily Values are based on a 2000 calorie diet.
YOU MIGHT ALSO ENJOY: