I struggle with getting enough water. I always have. But the truth is, drinking water becomes critical when when following a low carb or keto eating plan. My body doesn't hold onto water the same way it does when I eat carbs, so it's often easy to become dehydrated if I don't stay on top of my water consumption.
So instead of trying to drink a bunch of extra water when I can't even seem to get 8 glasses, I thought I'd experiment with electrolyte water.
The problem with the store bought stuff is that they are highly saturated with sugars and artificial ingredients. And if you buy something like SmartWater, you can end up spending a lot of your food budget just on bottled water which also adds all that plastic to our landfills.
So I got busy and came up with this recipe, and it's been working pretty well for me so far! It's almost like a very lightly flavored lemonade. It's quite good and really helps when I've let my water intake slip too far.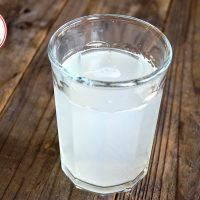 Ingredients
4

cups

water

1/8

tsp.

salt

1/8

tsp.

baking soda

2

tbsp.

lemon juice

stevia to taste
Instructions
Mix all ingredients together in a medium bowl or large water bottle and stir or shake to combine.
Nutrition Data According To MyFitnessPal.com
(Data may not be totally accurate.)