Keto Blueberry Scones are the grab and go breakfast food that will keep you happy even when the skies are grey. Happiness in every delicious low-carb bite.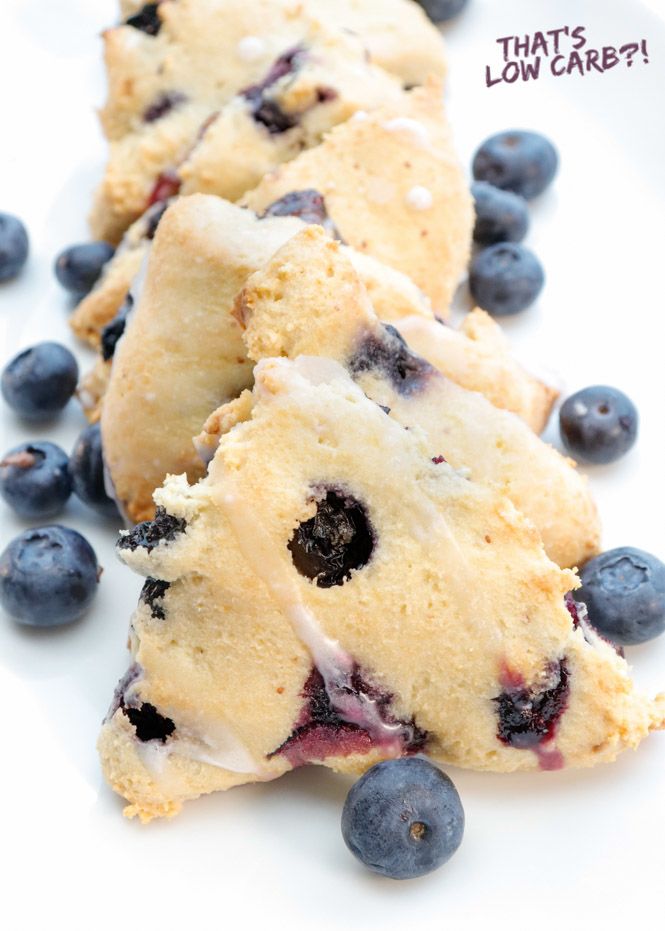 Keto blueberry scones can absolutely brighten your day without all the carbs of traditional scones, but all the amazing flavor. Stay on track with Keto and enjoy these scones any time you desire. Â
The first thing that comes to mind with scones is a all-too-adulty breakfast with coffee. The truth is, scones are more versatile than we often give them credit for. Yes, they ARE delicious to start the day. But you can enjoy for brunch, lunch or a sweet treat after dinner as well.
Keto Blueberry Scones variationsÂ
Blueberry scones are hands down our favorite scones. But sometimes we like to change things up just a little bit with the flavor. Definitely worth trying:Â
Add Chocolate Chips – Use sugar free chips to add a little extra sweetness. Check out our sugar-free chocolate recipe to help!
Chocolate Syrup – Add a no sugar added chocolate syrup drizzle over the scones.
Add Lemon – Trust us, the flavors go very well together. Try adding a little lemon juice in the batter or to the glaze. A-MAZ-ING. Or even some of our lemon curd!

Strawberries – To create a different scone, try adding strawberries instead of blueberries. Or if you're feeling adventurous, do both! Check out our list of low carb fruits to see which ones would be a good fit.
Savory

–

If you're looking to really go outside the box, you can make these scones savory with cheese, bacon, garlic, onion or other combinations.

HOW MANY NET CARBS IN OUR KETO BLUEBERRY SCONES?
3 Net Carbs per scone! We love how guilt-free these scones are. So good! Now if you decide to change it up with any varieties besides blueberries it could lower or increase the carb count so be sure to recalculate if you decide to do so.
Be sure to check out your Macros needed with our Keto Macro Calculator where it can give you a personalized idea what your calories and macros should be.
We provide the sugar alcohols information IN the nutrition card now. We do subtract sugar alcohols to get our net carbs so you have all the information provided below in case you need to do it differently. Remember we are a judgement free zone here and please be kind to others if they follow things a bit differently.Â
If you'd like to use another form of sugar alcohol be sure to check out our low carb sweetener conversion chart. This recipe can easily be made sweeter by using more of whatever sweetener you decide to use. We tend to go on the mild sweetener side of things so do what works for you in that regard as well.
If you are new to this Low Carb/Keto lifestyle and are unsure what we are talking about please feel free to read up more on Net Carbs. Or start at our Low Carb & Keto 101 Starter Page.

How to store Keto blueberry scones
Proper storage: Once the scones have cooled, you can store blueberry scones in an airtight container or use a freezer bag.
Can you freeze scones? Absolutely. If you have too many scones to eat in a reasonable time, freezing them is your best option. Wrap the scones tightly in plastic wrap or place in a freezer bag.
How to thaw frozen scones: When you're ready to eat, remove the scones from the freezer and allow them to thaw to room temperature. We like to make sure we thaw on a plate, to make sure nothing melts onto our counter to create a mess. You should be safe with your blueberries, but if you got some blueberry goodness on the bag before freezing you can risk a melty transfer of blue hue. Better safe than sorry!Â
DON'T SETTLE FOR HARD SCONES
There are very few things worse that deliciousness that has toughened up and become in-edible.
If your scones are starting to seem stale and hard, dampen a paper towel and wrap your scone. Reheat in the microwave for 10-15 seconds, depending on your microwave.
The moisture from the towel will breathe life back into your scones and the world will be right again. (At least in terms of scones texture and devour-ability.)Â Â
Don't be blue. While we're at it – keep in mind that if you bake with frozen blueberries, you can risk turning your whole scone blue. Check out these great tips for Baking with Frozen Blueberries.
Taking a bite out of history
Scones are a slightly sweet baked good originating from British cuisine. But the history is a little more blended than that.
You see, the Scottish also had a scone. The Dutch has schoonbrood. And THEN there were scones all over the tables with tea in Britain.
Even more interesting is how the scone has evolved from a plate sized flattened piece to the variations of size and shape we see today. Triangles are quite common, but round, square and hexagon are other shapes we see from time to time. Throw caution to the wind and you get a dropped scone, which involves dropping batter onto the griddle or pan.
Or something similar to our drop biscuits that we love so much. Biscuits are something I prefer to enjoy with low carb biscuits and gravy or even a bit of low carb lemon curd dolloped on top. Whereas with a scone such as these just goes perfectly with the mornings coffee.
We love that scones have a bit of an all-over-the-place backstory. They are a fun, nibble-worthy, often dip-able treat and it doesn't have to make sense for us to enjoy them.

Other recipes you may enjoy:
Low Carb Blueberry Scones
Keto Blueberry Scones are the grab and go breakfast food that will keep you happy even when the skies are grey. Happiness in every delicious low-carb bite.
Print
Pin
Rate
Ingredients
1.75

Cup

almond flour

3

tbsp

erythritol

or alternative sweetener

1/2

tsp

baking powder

1/4

tsp

sea salt

2

tbsp

butter

melted

1/4

cup

unsweetened almond milk

1

egg

1

tsp

pure vanilla extract

1/2

cup

blueberries

rinsed and drained
Instructions
Scones
PREHEAT oven to 350° and line a baking sheet with parchment paper.

In a medium bowl, mixed together the dry ingredients: almond flour, sweetener, sea salt and baking powder.

In a separate bowl, mix together the wet ingredients: butter, almond milk, egg and vanilla extract.

Pour the wet ingredients into the dry ingredients and mix until combined, don't over mix.

Place dough on the baking sheet and form a disc with your hands.

Using a cookie cutter or very sharp knife, cut into 8 pieces.

Spread the scones about 1-2" apart and bake for 18-20 minutes, until golden brown.
Glaze
While the scones are baking mix together the coconut oil and sweetener to create the glaze.

Remove scones from the oven and drizzle with glaze. Allow to cool and enjoy!
Nutrition Info
Nutrition Facts
Low Carb Blueberry Scones
Amount Per Serving (1 scone)
Calories 195
Calories from Fat 153
% Daily Value*
Fat 17g26%
Cholesterol 28mg9%
Sodium 116mg5%
Potassium 46mg1%
Carbohydrates 12g4%
Protein 6g12%
Sugar Alcohol 5g
* Percent Daily Values are based on a 2000 calorie diet.