Keto Broccoli Tots are the perfect low-carb appetizer or snack for even the pickiest of eaters. Dip-able deliciousness awaits!
Keto Broccoli Tots will surprise your taste buds and sneak some more veggies into your diet in a fun way. Even if you're not a big fan of broccoli, we encourage you to give these tots a try. Trust us, they are perfection!
What makes Keto Broccoli Tots Good For You?
These tots are actually good for you. They low carb and offer a healthy helping of fiber for good measure, aiding in digestion and allowing you to feel full sooner. Which I find this diet can often be lacking in fiber when not done right so these are the perfect snack!
Broccoli also is chocked full of Vitamin A, C, Calcium and Iron. These tots are right in line with the more traditional tater tots but way less carbs. WIN!
Bonus, these Broccoli Tots are truly fun and a great way to get kids on board with more greens. As adults, we get on board with healthy eating for a lot of reasons. But as kids, we need a little more persuasion. These are delicious all by themselves, but can be enhanced with dipping sauces. Kids dig sauces. 😉
Check out this Lightened Up Broccoli Salad from Perchance to Cook.Â
How do you make Broccoli Tots Keto?
This recipe is our favorite way to eat broccoli for a lot of reasons. In part because it's an easy recipe made Keto by the use of almond flour, which brings a unique flavor to the mix. We love almond flour!
How easy is it to make Keto Broccoli Tots? Just a few minutes to prep and 25 minutes (give or take) to bake and you're in business.
You'll start by chopping and blanching your broccoli, which involves placing your broccoli in boiling water for 1 minute. For good measure, remove your broccoli and run under cold water to stop the cooking process in its tracks. Drain your greens and then finely chop them up.
Add your broccoli in with your other ingredients and mix well. Then mold your tots and prepare to bake! 10 minutes to start, then flip and bake for another 10 to 15.
Plot twist – these Broccoli Tots can be air fried!
We love the Instant Vortex (affiliate link) for perfectly crisp broccoli tots in less time. Make sure to spray your air fryer basket with non stick spray (we prefer olive oil spray) and fry at 400 degrees for 5 minutes, flip and fry for 5 more.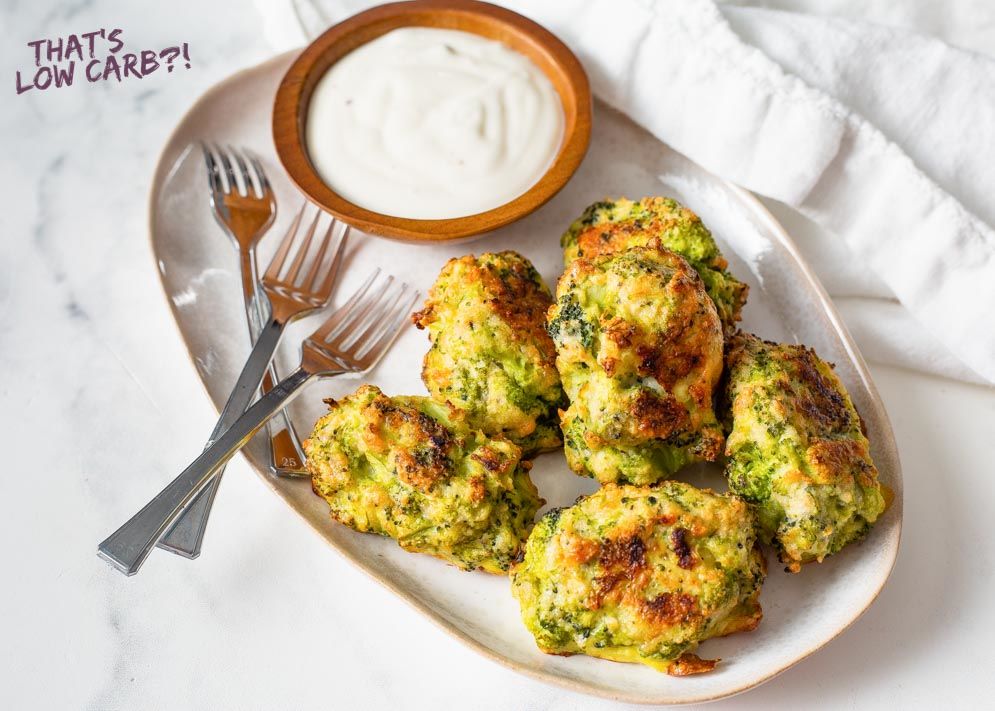 What to serve with Low Carb Broccoli Tots
One of the ways this is made more palatable to picky eaters and broccoli despise-rs is by getting dippy with it. There are some classics and some unexpected dip heroes in the mix.
We personally have a strong obsession with ketchup. Some family members may think it's disgusting but to me it's heavens dipping sauce. Our low carb keto ketchup recipe is the solution or you can also buy sugar-free ketchup in the grocery store.
Of course, one of the classic dipping choices is Ranch. This is in part because of our obsession with putting Ranch on everything. It's cool but flavorful, complimenting a range of flavors. These Keto Broccoli Tots are no exception. For the sake of cutting carbs, we recommend our Keto Ranch Dressing.
Another solid option is sugar-free barbecue sauce, the zesty smokey flavor helps curb some of the broccoli-ness, which can help those picky eaters enjoy this appetizer. Barbecue sauce brings a little heat as well, which when combined with the fiber in the broccoli helps curb cravings so you feel full quicker.
If you're feeling REALLY zesty, there's another awesome option that is perfect for spice-a-holics. Buffalo. Creamy, spicy buffalo. The kind of heat that will wake your taste buds. In our opinion, the best is homemade buffalo sauce made with just 4 ingredients! Sometimes we like to combine a little buffalo with ranch – or we layer our dips by getting ranch on first and then dabbing on some buffalo. Because life is too short to be boring.
HOW MANY NET CARBS IN OUR KETO BROCCOLI TOTS
1 Net Carb per serving of our Keto Broccoli Tots. That's on top of the bonus getting a healthy helping of veggies! If you use a sauce to dip these in, don't forget to recalculate your net carbs accordingly, depending on the sauce.
These are also pretty decently sized tots as well so personally we normally split these for a meal and that's 8 Net Carbs for a meal.
If you are new to this Low Carb/Keto lifestyle and are unsure what we are talking when it comes to net carbs  read up more on Net Carbs. Or start at our Low Carb & Keto 101 Starter Page.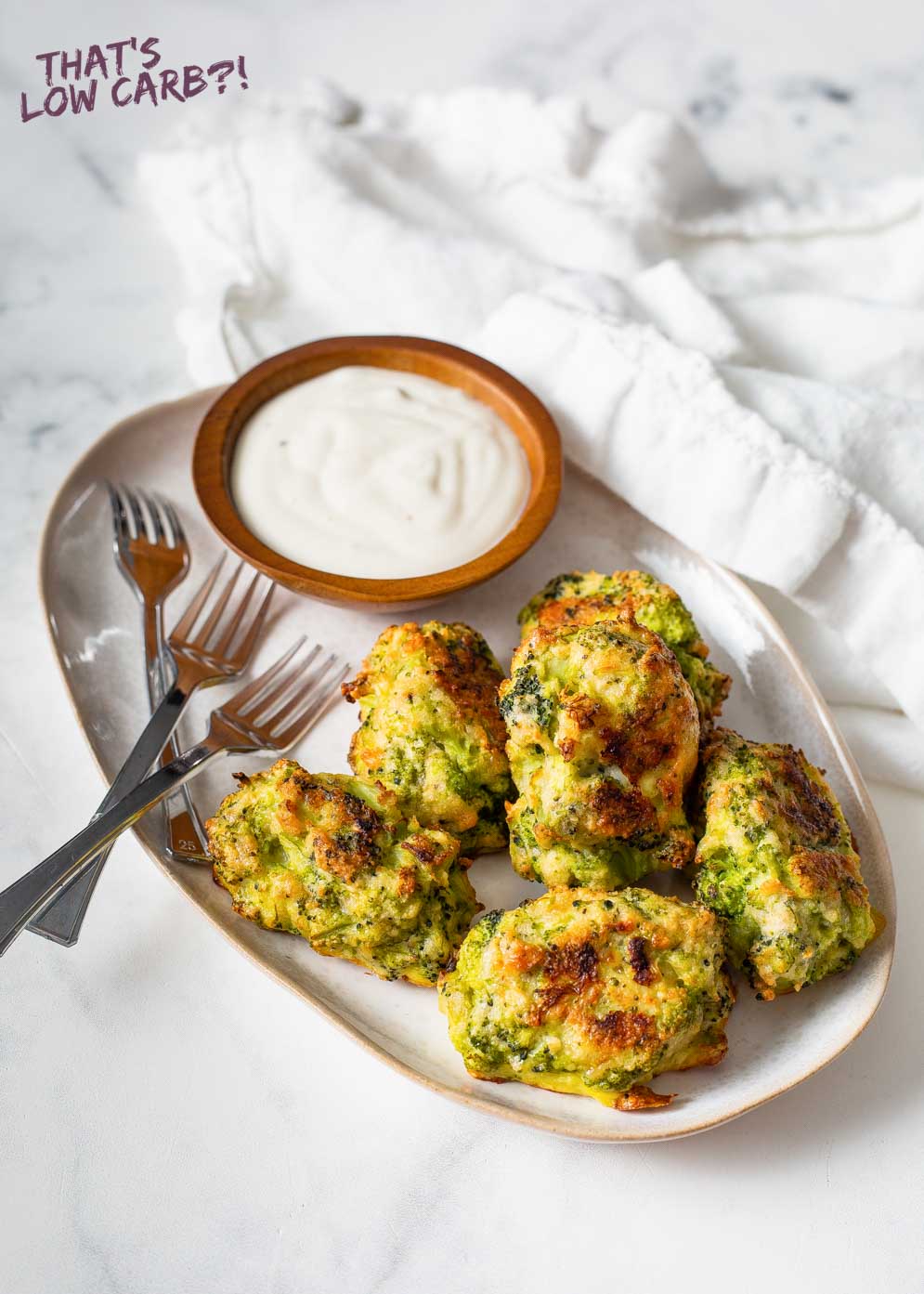 Other recipes you might enjoy:
Keto Broccoli Tots
Keto Broccoli Tots are the perfect low-carb appetizer for even the pickiest of eaters. Dip-able deliciousness awaits!
Print
Pin
Rate
Ingredients
1/2

LB

broccoli, steamed and chopped

(approximately 3-4 cups chopped)

2

eggs

1/3

cup

grated Parmesan cheese

4

tbsp

almond flour

2

cloves of garlic, minced

1

tsp

salt

1

tsp

pepper
Instructions
Preheat oven to 400 degrees F. Prepare baking sheet by lining with parchment paper.

Quickly blanch the chopped broccoli in boiling water for 1 minute. Remove and immediately run under cold water to stop cooking. Drain all water from broccoli.

Finely chop the broccoli. Add to bowl and mix with eggs, Parmesan cheese, almond flour, garlic and salt and pepper.

Scoop 1.5 tablespoons of mixture and gently form a tater-tot shaped ball. Place onto prepared baking sheet.

Bake 10 minutes, turning them over and bake for a remaining 10-15 minutes until golden brown.

Enjoy with ketchup, ranch dressing or your favorite dipping sauce.
Nutrition Info
Nutrition Facts
Keto Broccoli Tots
Amount Per Serving (1 broccoli tot)
Calories 32
Calories from Fat 18
% Daily Value*
Fat 2g3%
Cholesterol 22mg7%
Sodium 190mg8%
Potassium 55mg2%
Carbohydrates 2g1%
Protein 2g4%
* Percent Daily Values are based on a 2000 calorie diet.