Low Carb Keto Pancake Syrup made with just a few ingredients. Need syrup to put on your low carb pancakes? This keto maple syrup is exactly what you need and can be made in just 10 minutes.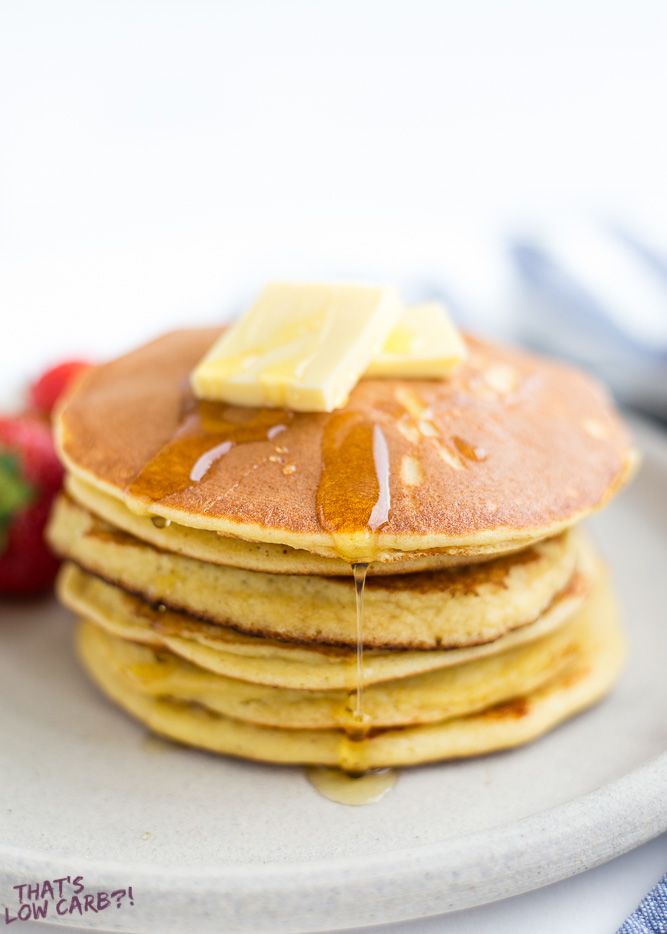 We've had quite a few questions about sugar-free pancake syrups since our Keto Pancakes recipe was posted. Well here in this post we are clearing up all the questions! Be excited guys, as in just 10 minutes after reading this post you could have a big stack of pancakes with ooey gooey low carb pancake syrup.
Lets get started…
How to Make Low Carb Pancake Syrup
It's actually WAY easier than you might think. Years ago I made a full-on sugar version as I ran out of maple syrup and did not feel like going to the store. Ever since then it is something I actually prefer to make, all you need is 4 ingredients.
Water (can this be counted as an ingredient?)
Powdered Monkfruit -this is my favorite personally but you can actually use any of your favorite granular sweeteners and turn them into a powdered version. (See note below)
Maple Extract – Our maple extract is a deep brown color and using that is what made the syrup that golden brown. If your extract is clear in color and you'd like the golden brown color I'd recommend using golden monkfruit and turning it into a powder using the instructions below. Sukrin gold is another good brown sweetener alternative – the photo below is when we used sukrin gold.
Xanthan Gum OR BUTTER – (totally optional in my opinion) But update that I actually think the butter works even better! It thickens the syrup andddd adds this delicious buttery flavor. Added about 3 Tablespoons of butter.
You can buy Keto Pancake Syrup but some don't have that option and some like me like to control a little bit more of what I put into my body. Which leads us into the next question.
What type of low carb sweetener to use in our Keto Pancake Syrup??
My personal favorite is the powdered monkfruit that I listed above. I found that using powdered vs. the granular sweetener made a huge difference. Especially since granular erythritol in general tends to have a difficult time melting into things at times. You can turn any of your favorite granular sweeteners into a powdered sweetener though.
How to Turn a Granular Sweetener into a Powdered Sweetener
Make sure your blender is VERY VERY DRY. Any residual moisture in the blender and this will not work.
Add your granular sweetener of your choice (erythritol, xylitol, etc.)Â Pulse in the blender for 8-10 times, or until the sweetener turns into a powder.
That is pretty darn simple isn't it? I find myself buying granular more often and making my own powdered sweetener often these days. If you are using a different sweetener for this recipe be sure to check out our Low Carb Sweetener Conversion chart to make sure you use the right amount. I'd personally stick with xylitol, erythritol, swerve, or monkfruit.
HOW MANY NET CARBS FOR OUR Low Carb Keto Pancake syrup
0 Net Carbs per serving.  There are 144 grams of sugar alcohols in this recipe. The Net Carbs per serving is by subtracting the sugar alcohol from the carbs. If you'd like to use another form of sugar alcohol be sure to check out our low carb sweetener conversion chart.
My family does subtract the sugar alcohols and I'll continue to provide that sugar alcohol grams above the nutrition card below and you can decide for yourself if you want to follow that.
If you are new to this Low Carb/Keto lifestyle and are unsure what we are talking about please feel free to read up more on Net Carbs and why people do or don't subtract sugar alcohols.
Now bake yourself a big batch of our Keto Pancakes or our Keto Pancake Casserole for when cooking for a crowd. Pour a hefty bit of keto syrup and a slab of butter to perfect that Sunday morning breakfast. 🙂
YOU MIGHT ALSO ENJOY THESE LOW CARB RECIPES:
Low Carb Keto Pancake Syrup
Low Carb Keto Pancake Syrup made with just a few ingredients. Need syrup to put on your low carb pancakes? This keto maple syrup is exactly what you need and can be made in just 10 minutes.
Print
Pin
Rate
Instructions
In a small saucepan over medium heat whisk together water, powdered sweetener, butter and maple extract.

Bring syrup to rolling boil. Boil for 4-6 minutes, whisking frequently.

If the syrup is not as thick as you would like you can add a tiny bit of xanthan gum slowly into your syrup.
Notes
Please note that there are 144 grams of sugar alcohol in the entire recipe and should be subtracted to get your net carbs. So if you calculate net carbs this entire recipe is 0 net carbs.
---
Please note that the nutrition data below is provided as a courtesy. We try to be accurate with this information but feel free to make your own calculations.
Nutrition Info
Nutrition Facts
Low Carb Keto Pancake Syrup
Amount Per Serving (1 cup)
Calories 154
Calories from Fat 153
% Daily Value*
Fat 17g26%
Cholesterol 45mg15%
Sodium 189mg8%
Potassium 1mg0%
Carbohydrates 73g24%
Protein 1g2%
Sugar Alcohol 72g
* Percent Daily Values are based on a 2000 calorie diet.