Keto Sausage Balls recipe that is so versatile you can make these and have multiple dinners or snacks for guests! At just .95 Net Carbs per meatball it's guaranteed to be a stand-by recipe for years to come.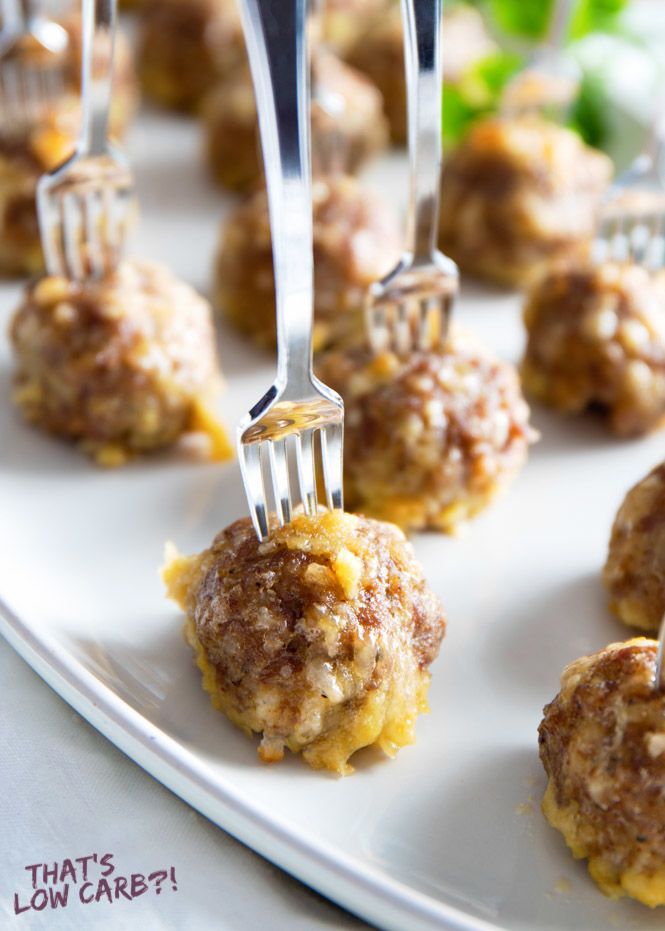 We've found our family to continue to make these Keto Sausage Balls this past year. I've done everything to eating them plain with a little low carb marinara sauce to making it into a meal. We'll share below just all the versatile things you can do with these sausage balls. 🙂
But first lets talk about the ground meat options in these Sausage Balls
We personally use Italian ground pork for this recipe but you can easily swap it out for a variety of options. We like ground pork for a few reasons.
 Cheap – It's relatively cheap to other ground meat options. Those weeks when you've got to stay on budget pork is the best. I've also found making a double batch of these extremely helpful with meal-preps and can be added into dinners throughout the week.
Low in Fat – There is less fat oozing out of the sausage balls which to me is always a win and less clean-up is needed which I am a huge fan of.
Easy to Find – Not sure why but there are times I can't find any ground turkey OR ground chicken in our grocery store but ground pork is always in stock… so theres that.
Other ground meat options for this recipe….
Ground Turkey – this is personally my favorite to fall back when making this recipe. The fat content is low which prevents the ooze of juices everywhere.. I prefer not to scrape the fat off the meatballs after they cook.
Ground Chicken – another great option but it tends to be really expensive when compared to turkey and pork. It tastes good but for some reason it's not my entirely favorite option. But if you are not a pork person then these two options will work wonderfully for you.
Ground Beef – OK so here is where in my opinion you've got to be careful. Careful to not use a high fat percentage ground beef. The fat that oozes out of this will not be appealing and honestly I find the flavor to be overpowering. Now if you plan to but these in a marinara sauce or something just as equivalent to powerful you might be able to get away with it.
Pork is just generally our families fall back on. If our 5 Pork Chops Dinners for your freezer post or our Fat Bomb Pork Chops are any clue that pork is just a meat that we like to eat on weekdays because of it's cheap price and simplistic flavors. But now you have options above if you are not a pork family. 🙂
What type of sauces or how to use these Keto Sausage Balls
Plain – just bake up and enjoy! They have enough flavor to enjoy by themselves and pack really nicely in lunchboxes.
Marinara Sauce – enjoy as an appetizer with a little bowl of low carb marinara sauce. Eat this for dinner or enjoy with friends to snack on. Check our out low carb smoky pizza sauce recipe, goes perfect together.
Cheese Sauce – mmmm cheese sauce. Now this is actually one of the biggest ways we use these. Whip together a batch of our Keto Cheese Sauce, add these baked keto sausage balls and enjoy! I love to add a side of our oven roasted broccoli.
Buffalo Dip – mmm more cheese. If you swap the Italian ground sausage to plain sausage or even spiced sausage in the recipe dipping these into some homemade buffalo dip (minus the chicken) is DIVINE.
Pair it with some finger food -fabulous for when having friends over. Make some low carb mozzarella cheese sticks and you've got some epic appetizer spread.
HOW MANY NET CARBS PER KETO SAUSAGE BALL
.95 Net Carbs per meatball.  We rounded up for the sake of making things easy. This recipe makes about 20 meatballs so simply calculate your dinner by how many meatballs you have and whatever sauce or dip you decide to pair them with.
(Side Note: We added a few of our leftover meatballs sliced up onto our pizza the other night.. amazinggggg.)
If you are new to this Low Carb/Keto lifestyle and are unsure what we are talking about please feel free to read up more on Net Carbs and why people do or don't subtract sugar alcohols.
OTHER LOW CARB RECIPES YOU MIGHT ENJOY:
Keto Sausage Balls
Keto Sausage Balls recipe that is so versatile you can make these and have multiple dinners or snacks for guests! At just .95 Net Carbs per meatball it's guaranteed to be a stand-by recipe for years to come.
Print
Pin
Rate
Ingredients
1

pound

ground Italian sausage

1

cup

shredded sharp cheddar cheese

1/4

cup

shredded parmesan cheese

1

egg

3

Tablespoons

almond flour

1

teaspoon

baking powder

1

teaspoon

garlic powder

1

teaspoon

onion powder

1/4

teaspoon

sea salt

5

churns

freshly ground black pepper
Instructions
Preheat oven to 350 degrees F

In a large mixing bowl mix all ingredients together until well combined.

Divine the mixture into 20 sausage balls and place onto a rimmed baking sheet. Bake for 25-30 minutes, or until sausage balls are cooked through.

Enjoy by themselves, dip in marinara sauce or enjoy with our cheese sauce and baked veggies!
Nutrition Info
Nutrition Facts
Keto Sausage Balls
Amount Per Serving (1 meatball)
Calories 117
Calories from Fat 90
% Daily Value*
Fat 10g15%
Cholesterol 32mg11%
Sodium 252mg11%
Potassium 91mg3%
Carbohydrates 0.95g0%
Protein 5g10%
* Percent Daily Values are based on a 2000 calorie diet.