I love salmon. I don't eat it too often, but I do love it. The main reason it's so healthy for you (aside from being low carb!) is the fact that it's such an excellent source of Omega 3 fatty acids. This idea has been brewing since I posted my Fat Bomb Pork Chops recipe. The whole idea of a fat bomb salmon recipe popped up when I started thinking about the types of fats that are most healthy for us. Omega 3's are essential to good health, so I thought I'd run with that.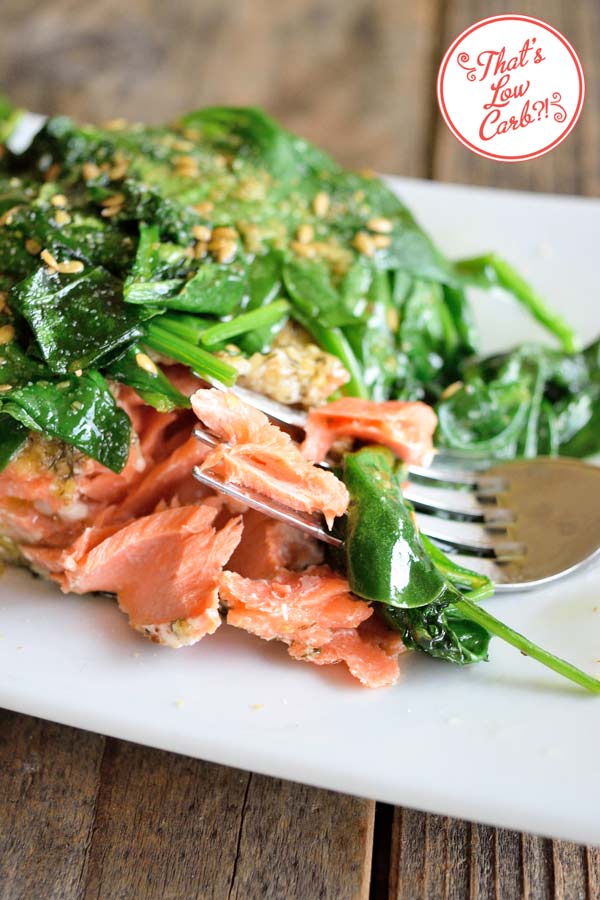 One important aspect of this recipe is to take a little extra time for the cooking. While salmon usually cooks up pretty quickly, it's important not to get the heat so high that you kill off the good benefits of the flax or olive oil, both of which have a relatively low smoke point. So don't go higher than a medium heat on this, even if it takes a few extra minutes to get the fish cooked. Cooking times will also vary based on the thickness of your fillet, so use the range below as a ballpark.
Technically, you could probably get about 2 servings out of this if you serve this with other things. But I had this as a complete dinner and it was perfect!
You may be wondering where the Omega 3's are in this dish besides the salmon. That's easy. It's in all the ingredients!! (Except for the spices, of course…)
YOU MIGHT ALSO ENJOY:
Ingredients
1/2

lb.

wild-caught salmon fillet

2

tbsp.

freshly ground flaxseed

1/2

tsp.

dried dill

1/2

tsp.

garlic powder

1

cup

(packed) fresh spinach

3

tbsp.

flax or olive oil, plus 1 extra tbsp. for topping
Instructions
In a small bowl, mix the flax, dill and garlic powder.

Place your raw fillet on a plate.

Pour a bit of oil over the fish to make the surface sticky for the breading.

Pat the entire batch of breading over the top surface of the fish.

Warm several (2-4) tablespoons of oil in a medium skillet.

Place the filet in the skillet and cook over medium heat, covered for about 6-8 minutes or until cooked to your liking.

At the 5 minute mark, toss in the spinach and cover the pan again and finish cooking the fish.

Drizzle a bit more olive oil over the top along with a few extra flax seeds and serve with a side of cauli-rice and a salad!
Nutrition Data According To MyFitnessPal.com
(May not be totally accurate):