Sugar Free Meringue Cookies recipe that is 0 Net Carbs per cookie! We'll help you how to make the perfect meringue with our 4 easy tips.
Not sure where my motivation came from but I one morning just wanted to make some meringue cookies! After our pumpkin spice meringues our family realized how much we love them!
They are relatively easy to whip together provided you follow the instructions and our recipe tips below. The best part? They are actually a perfect low carb dessert! You'll see why in a second.
How many net carbs in our Low Carb Sugar Free Meringue Cookies
0 Net Carbs!! After I calculated this I was floored at my calculations. The bulk of the nutrition is the sugar alcohols which cancels itself out with net carbs. Which after I calculated actually made a ton of sense.
Note: The Net Carbs per serving is by subtracting the sugar alcohol erythritol. If you'd like to use another form of sugar alcohol be sure to check out our low carb sweetener conversion chart.
My family does subtract the sugar alcohols and I'll continue to provide that sugar alcohol grams above the nutrition card below and you can decide for yourself if you want to follow that.
If you are new to this Low Carb/Keto lifestyle and are unsure what we are talking about please feel free to read up more on Net Carbs and why people do or don't subtract sugar alcohols.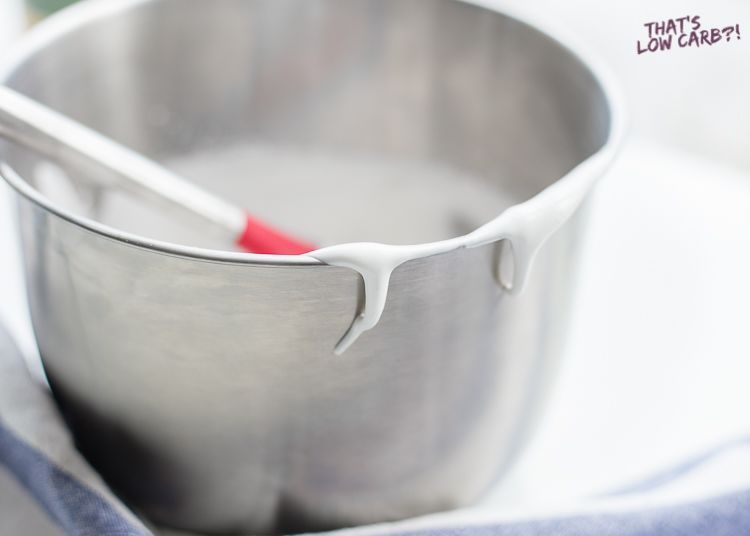 tips on how to get the perfect sugar free meringue cookies
Separating your Egg Whites – Separate your egg yolks from egg whites in a separate bowl from your mixing bowl. I've found that even the tiniest bit of egg yolk will ruin your batter from achieving stiff peaks.
The Bowl – Make sure the bowl you are using is completely dry and grease-free. Even the tiniest bit of water will not allow your egg whites to reach stiff peaks.
Baking Time – The cookies on the outside would be hard and almost appear dry. You want to be able to lift them easily from the silicone mat/parchment paper and the bottoms stay intact.
Texture – Meringues should be hard and dry-like on the outside but inside is almost like a marshmallow. They should have a crunchy outside but a melt-in-your-mouth inside. If they turn out really chewy on the inside next time bake for less time.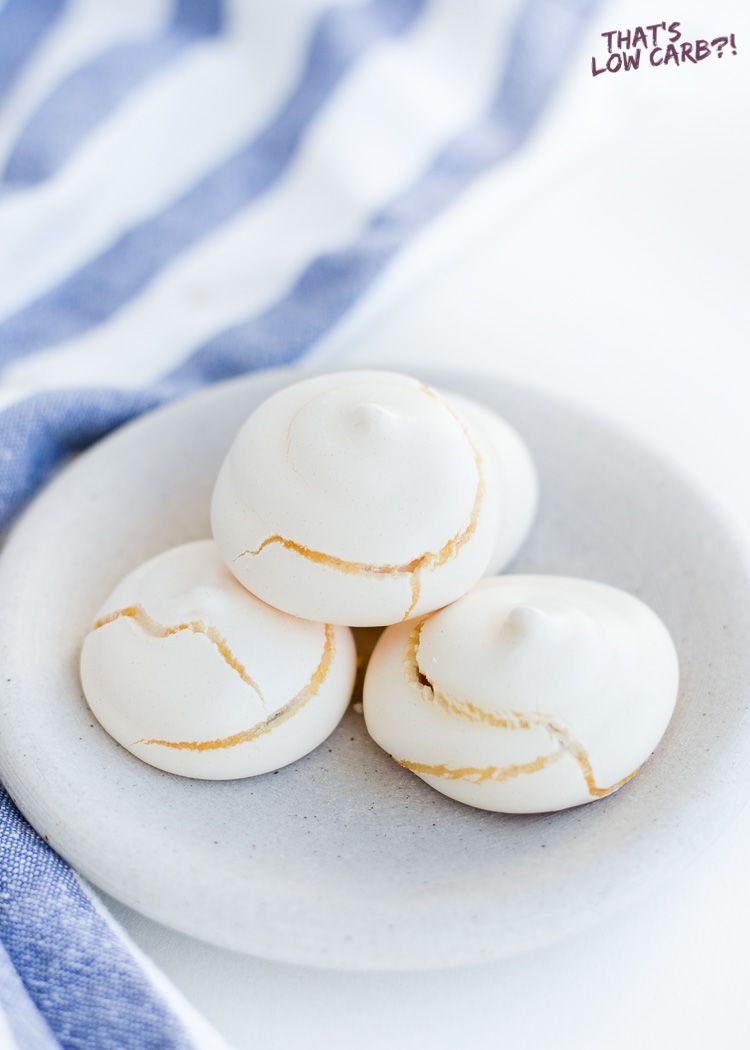 YOU MIGHT ALSO ENJOY THESE LOW CARB RECIPES:
Low Carb Sugar Free Meringue Cookies
Sugar Free Meringue Cookies recipe that is 0 Net Carbs per cookie! We'll help you how to make the perfect meringue with our 4 easy tips.
Print
Pin
Rate
Instructions
Preheat oven to 200 degrees F

Line a baking sheet with a non stick silicone mat or greased parchment paper. I find the silicone mat works the best.

In a medium bowl with hand mixer add egg whites and beat on medium low speed for 1 minutes. Egg whites should be white and frothy.

Continue mixing at medium speed add 1 Tablespoon of erythritol at a time, after all of the erythritol add 1 Tablespoon of powdered erythritol at a time, continue whisking together until stiff peaks form. Batter should be glossy and smooth.Stir in vanilla extract.

Spoon meringue batter into mounds on prepared baking sheet or spoon into a piping bag and pipe into little mounds.

Bake 2.5 -3 hours or until meringues are hardened on the outside and lift off the parchment paper with bottoms intact and centers are not sticky inside. Turn off the oven and allow them to cool inside the oven.

Store in an airtight container for up to 2 weeks.
Notes
Please note that there are 240 grams of sugar alcohol in the entire recipe. Total of 10 grams of sugar alcohol in 1 meringue cookie if it makes 24 cookies.
---
Please note that the nutrition data below is provided as a courtesy. We try to be accurate with this information but feel free to make your own calculations.
Nutrition Info
Nutrition Facts
Low Carb Sugar Free Meringue Cookies
Amount Per Serving (1 meringue cookie)
Calories 2
% Daily Value*
Fat 0g0%
Cholesterol 0mg0%
Sodium 6mg0%
Potassium 6mg0%
Carbohydrates 10g3%
Protein 0g0%
* Percent Daily Values are based on a 2000 calorie diet.